Red Wing Potteries made two pattern featuring a cowboy theme. So to help collectors tell the difference, here is the information from a recent Ask the Experts answer by Larry Roschen.
"Chuck Wagon and Round Up are closely related patterns. These patterns share the same cowboy-themed designs, but the artwork is different on several pieces. For example, the Chuck Wagon dinner plate features a cattle roping scene while the Round Up dinner plate shows a cowboy cook calling out (presumably yelling "Come and get it"). Except for the few items with different decorations, it is nearly impossible to determine whether a given piece was originally sold as Chuck Wagon or as Round Up. Collectors generally refer to all of it as Round Up and consider the Chuck Wagon pieces to be variations. The large dinner plate in the photo below is Chuck Wagon; the rest of your pieces I would classified as Round Up.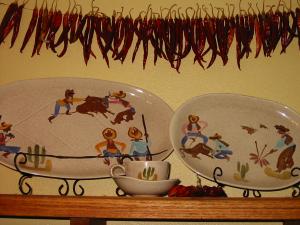 Documentation for Chuck Wagon is very limited, but we know it was not sold through retail stores like most Red Wing dinnerware. It was "Sold exclusively by The Mal Company" as stated in an undated Chuck Wagon brochure and was available only via mail order. This brochure shows wrought iron warming stands, which is a clue that Chuck Wagon was introduced prior to Round Up. Wrought iron stands and the pinkish wing-shaped ink stamp on the bottom were still used in 1957. In 1958 the pink wing mark was dropped and copper stands replaced the wrought iron stands. We believe Chuck Wagon was introduced in 1957. The Mal Company subsequently went out of business or lost its exclusive rights contract with Red Wing. Red Wing then introduced Round Up in 1958 as a standard dinnerware pattern.
  
 
 
Round Up/Chuck Wagon is extremely popular with collectors. It is arguably the most highly sought of Red Wing's many standard production dinnerware patterns."
So, whether you are a Red Wing Dinnerware collector or just interested in western themed items, this is a great pattern.