It is that time of the year when the RWCS office starts getting calls about using Red Wing crocks to make pickles and sauerkraut. Most of the calls to the office ask about cleaning, repair, weighting down the cabbage, etc. Here are some tips to help you get started.
1. Cleaning your crock: In most cases last years residue can be removed with dish soap and hot water. For more stubborn lime, calcium, or other deposits, our online expert recommends using Lime removal products in gel form. Apply gel let sit for 24 hours and then rinse. Repeat as necessary and don't forget to wash with soap after the lime removal product.
2. Don't have a traditional koverwate: Original Red Wing Koverwates can be expensive – click here to view the RWCS Ask the Expert Answers. Here is a photo of a koverwate: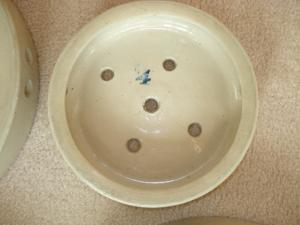 At the 2010 MidWinter GetTogether, Diane Roupe, author of the Blue Ribbon Cookbook, recommends placing a cheese cloth on the top of your kraut, the a plate that fits as close to the crock sides as possible and weight it down with zip-lock bags of water. She also recommended covering the crock with a towel to keep it free of dust.
3. Damaged: The RWCS office recommends that if you crock is damaged don't use if for food storage or making pickles in kraut. There are ways to repair your crock using gel super glue but the chemical from the glue would leach into the crock. Check out a future blog posting on "Other uses for Red Wing Crocks."
So the farmers markets are flooded with great produce and maybe your garden is bursting with pickle making cukes or cabbage heads abundant. Time to get out the crock and set your self up for awesome homemade goodness.