The Red Wing Collectors Society(RWCS) website and office has your answer!

The RWCS has a number of ways to find out what your Red Wing: stoneware dinneware or art pottery is worth. Here are the methods.
1. Ask the Experts – The RWCS website www.RedWingCollectors.org has this service and it's FREE. Search through thousands of previous questions to find your piece or submit your description, ask what you want, and provide what you can. One of our three experts in stoneware, dinnerware or art pottery can assist you. The process takes just a few days. Check back in the area of your question for your answer. Learn more about the Ask The Experts on their page.
2. Email director@redwingcollectors.org – Just like the RWCS website page you can email your questions to the RWCS Business Office and the Executive Director, Stacy Wegner, will be able to assist you. Include as many photos and as much information as you want. She will contact the experts and get back to you.

3. Call 800-977-7927 – Don't have email not sure about the Internet call the RWCS Business Office Monday – Friday 8:30 am to 5:00pm and the Executive Director, Stacy Wegner, will be able to assist you. Feel free to leave a message, your call will be returned.
4. Mail RWCS, PO BOX 50, Red Wing, MN 55066 – Feel free to mail your information and questions to the Business Office. The office can take the information and find your Red Wing Pottery answers.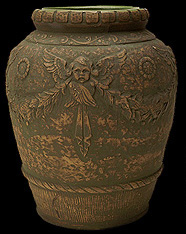 The RWCS Business Office is happy to provide answers to everyone's questions about Red Wing. In order to get your question answered in the most efficient manner make sure you provide the following information:
1. Provide a detailed description of the piece (size, condition, decoration, markings, glaze). If you are asking about dinnerware please include the number of each piece in the place setting.
2. Attach a picture in the space provided if possible. It's always helps the Expert to have a visual.
3. Your question will be sent to the appropriate Expert.
4. The Expert will provide you with an identification of the piece, the time period it was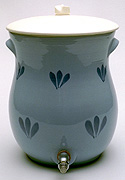 produced, the rarity/desirability of the item and a range of possible value*.
5. Please be patient as answers to questions make take a few days to post to the website or be responded to via email or phone.
We hope that this information will trigger your interest; maybe you too will be come a collector!