It's hard to believe that that Red Wing Collectors Society Convention is just weeks away. The RWCS office as been so busy getting ready – I forgot I had a blog to keep up.
Lot's of Fun and Excitement for the Convention this year! As always, everyone is asking what is the commemorative this year? Can I still get one? Can I still get one at the Convention.
The RWCS has made a commemorative each year of the Convention. The first Convention was in 1977; but, the commemorative that year was sold at the 1978 Convention. The rule is that the piece must be a small reproduction of an actual piece of Red Wing Stoneware, Dinnerware, or Art Pottery.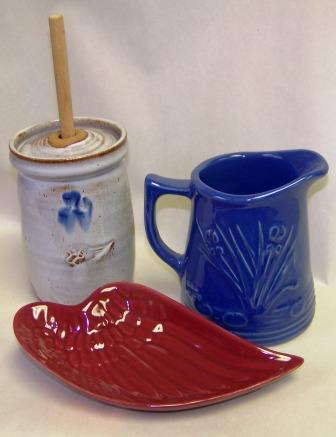 The 2011 Convention will mark the 35th Annual Convention for the club. The rumor on the street is the commemorative is going to be awesome! It will sure be stirring addition to the commemorative collection! RWCS members even got a hint this year in their December 2010 newsletter; so, there has been lots of speculation. The commemorative will be unveil on Thursday, July 7th, 8:00am at Red Wing High School.
With this year the Society will have produced 35 commemoratives for its members. The commemorative is only available for members and they must be pre-ordered or purchased during the Convention. Once the Convention is over – there are no more Commemoratives available. Interested in seeing all of them online – here is a link!
If you are a casual Red Wing colllector, there is still time to register and buy a commemorative or even have it mailed! Don't miss another one.