The excitement of the 100 Mile Garage Sale weekend is just around the corner. As a mom, I think it's extra special that it falls on Mother's Day this year.  As I start my list of things to look for this weekend – Red Wing Pottery and Stoneware is always at the the top at ever stop.  It got me thinking about all the great Red Wing Garage Sale finds I have found in the past.
1. Trader Vic Mug - Red Wing Pottery made these really neat mugs for the Trader Vic Restaurants out West. I found my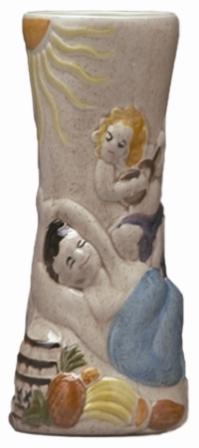 Trader Vic mug in Frontenac, MN. There it sat on the table. My eyes grew wide as I saw this unmarked and plain speckled piece had no damage and only $1. I quickly pulled out a buck and brought it to the table. I will never forget what the owner said "I've always loved that vase." Hmm maybe I should have told her what it was; but, I said yes it is a neat piece and walked away. To the right, is a photo a Trader Vic mug in color.
2. Red Wing's Hotel Line- Red Wing made over 100 dinnerware patterns and I am always on the look out for some at Garage Sales. I was at a 100 mile garage sale in Hagar City, WI. In the garage back corner in a box was Red Wing's Restaurant ware other wise know as Hotel Line. This particular find was the the tan speckle pattern below but it was also made in different trim colors: pink for Diamond Jim and blue for The Sweden House. My box treasure was $25 – plates, bowls, cups, saucers, platters, creamers, etc. – just a enough for a full table service. I knew this was a find especially for the RWCS Annual Convention - Kids View Program. I quickly snapped up my find worth more than $25. Photo of plate below.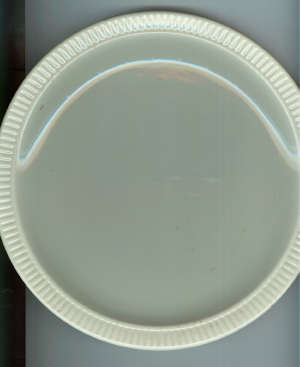 So as you are out there this weekend consider taking a look at the dinnerware, art pottery and even the crocks you my find – It could be Red Wing. What away to start a collection with a garage sale find! Happy Hunting this weekend – hope to see you out there.