It has been a busy past few weeks Red Wing Pottery fans! As Red Wing Collectors Society (RWCS) members know Convention Registrations are out so forms are flowing into the office for the Annual Members Only commemoratives. That got me thinking about a new blog post – Salt Glaze!
Salt Glaze is the oldest of the Red Wing Stoneware lines. Like the Red Wing Stoneware, it began in 1877 and was produced until 1897. The production line comprised of utilitarian stoneware items such as jars, jugs, churns, water coolers, bowls and such.  The RWCS Production Line History document defines Salt Glaze as "a clear, glassy surface is created on the exterior of the ware while it was being fired by throwing common rock salt into the kiln. The heat vaporized the salt and the atmosphere reacted with the clan to form a sodium-silicate glaze on the surface. The interiors of the pieces, which wouln't be exposed to the salt vapors, were sealed with rich brown glaze – called albany slip."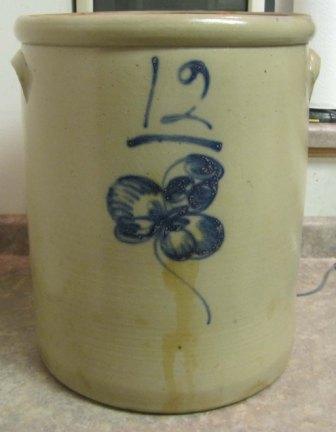 What make salt glaze pieces so desirable  to collectors you might ask? I think it has alot to to with the hand decorations and that they were hand-turned.
Hand-turning means that the piece was formed by hand on the potters wheel. The craftsman of the potteries placed the clay on a large wheel and formed the crock, jug, churn etc by hand while the wheel was spinning.
The cobalt blue decorations of the Potteries of Red Wing varied from the simple target decoration to the coveted rib cage and butterfly. To learn more about the butterfly click on the photo and it will bring you right to the Red Wing Collectors Society Free Ask the Expert page with more info on this piece.
 Salt Glaze pieces are always a head turner, when collectors see them. It is breath taking to see these examples of American craftsmanship from the crock formation on the wheel to the hand detail of the decorations.
The RWCS newsletters always has a great article about these early beauty's of Red Wing and many expert questions too. Here are some examples to peak your interest: